TERRA PHYSICS is a small business, management company (certified with MWD, FI$CAL, Bidsync, The Network, and registered with CCR Federal Government System for Award Management) that conducts geophysical surveys for earth science companies in support of their environmental, geotechnical, and ground water projects.  We have been successfully completing projects on time and within budget for 20 years.  Majority of our work is for repeat clients who are satisfied with the results we deliver. Geophysical surveys are an integral part of a site investigation because they can detect vertical and lateral changes in subsurface stratigraphy and ground water conditions.  The surveys can rapidly cover large areas because the surface measurements require no penetrations.  Surveys generally satisfy these objectives.
Initial site characterization where minimal data exists
Interpolation of subsurface conditions between borings/wells
Detection of critical changes in subsurface material continuity
Detailed in site evaluation of engineering physical parameters
Location of buried man-made objects (UST, debris, concrete structures, dry well, and utilities)
Company Resources
TERRA PHYSICS uses the latest hardware/software systems to conduct geophysical surveys that will satisfy your objectives.  Our equipment is regularly calibrated by the original manufacturer and maintained according to their specifications. We have developed Standard Operating Procedures that are in strict agreement with ASTM, ASCE, California Department Of Health Services, and US Air Force and Navy.  These procedures describe instrument calibration, data collection, processing, documenting, and Quality Control measures for all activities. We have a written Health and Safety Plan in accordance with Federal 29 CFR 1910 and 1926 and California Code of Regulations Titles 8 and 22. Our field crew participates in annual OSHA HAZWOPER training and medical monitoring. We arrive at the job site with the appropriate PPE and have never had a reportable OSHA incident. We are fully insured for Workman's Compensation, General Liability with umbrella coverage, automotive, and Professional Liability. Mr. Kerry Hennon (PGp-886) is our principal registered geophysicist and your point of contact for technical issues. Instead of just having the surveys supervised by a registered geophysicist back in the office, we put them in the field where their experience ensures surveys are designed appropriately and data collected properly so survey objectives are met. We can supply our field technicians or would be glad to use your crew with their understanding of the specific site conditions being surveyed. All TERRA PHYSICS personnel are US citizens. We use no subcontractors.
Results
Geophysical Survey results can expand your knowledge of a site at a fraction of the cost for a comprehensive drilling program. Geophysical results can help optimally position follow up drilling activities to directly encounter subsurface features of interest.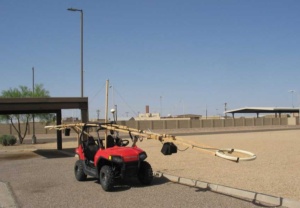 Summary
TERRA PHYSICS can successfully complete your geophysical project on time and within budget. More than three quarters of our work is for repeat clients that are continually satisfied with the quality of our survey results. Our costs are low because we truly are a small company with very low overhead and have years of experience in controlling costs. TERRA PHYSICS can help design and complete the appropriate geophysical survey for detecting the buried feature of interest at your site. Please contact us for additional project histories, resumes, or to discuss your specific situation. We can supply cost quotes within one day.